3:53:00 PM Posted In
26 weeks
,
Bed Rest
,
Pictures
,
Pregnancy
,
Special People
Edit This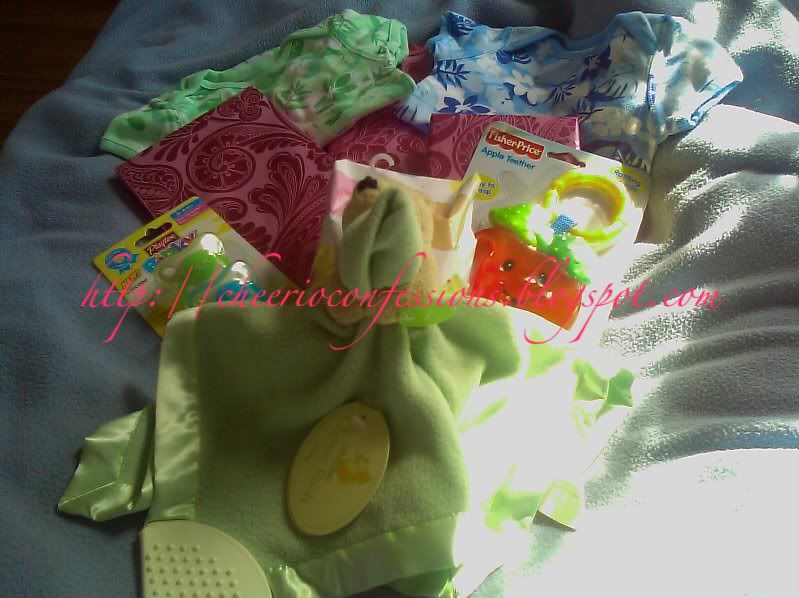 So imagine my surprise on Thursday when the mailman brought a package to my door. Then I had to try and figure out who the mystery sender was. (I'll explain this in a bit.) After the little mystery was solved, Elliott Richard was more than willing to help me check out the contents of the package.
These are the goodies as they arrived. Cute and beautifully wrapped. This is the "Before" picture. The unwrapped gifts came that way.
Among the unwrapped gifts are: a Pooh Bear rattle and blanket teether, 2 Binkies, an Apple teether toy (one of my clues as to the mysterious sender), a blue Hawaiian onesie and a green Hawaiian onesie.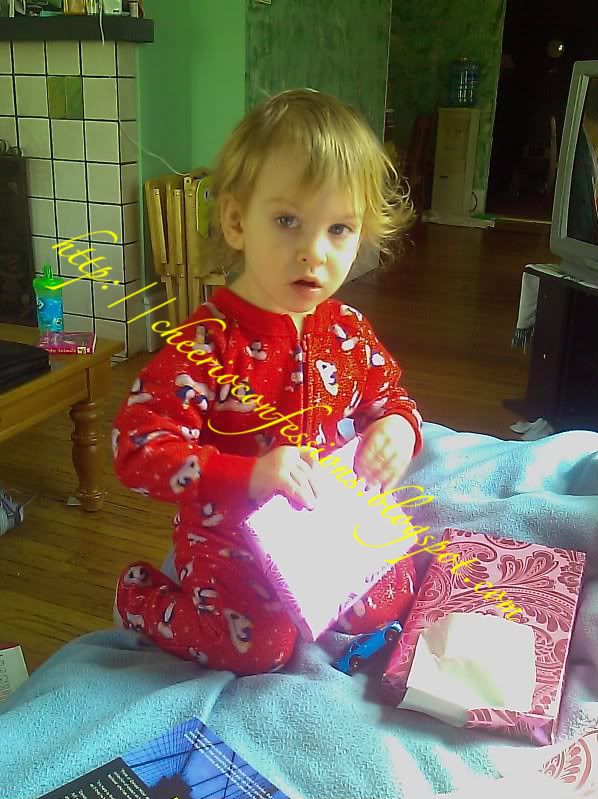 These pictures are Elliott Richard opening my gifts. He was climbing on the bed as I was trying to take the above picture. Always the curious child, he just had to see what was going on. And what fun stuff Mommy had but wasn't sharing. (lol) No sooner did I have the picture taken than he climbed up and grabbed the wrapped gifts. (lol)
Don't you just love the "Farrah Faucett" flip on the side and his "excuse me?" expression. (lol)
He was quite excited to have gifts to open though.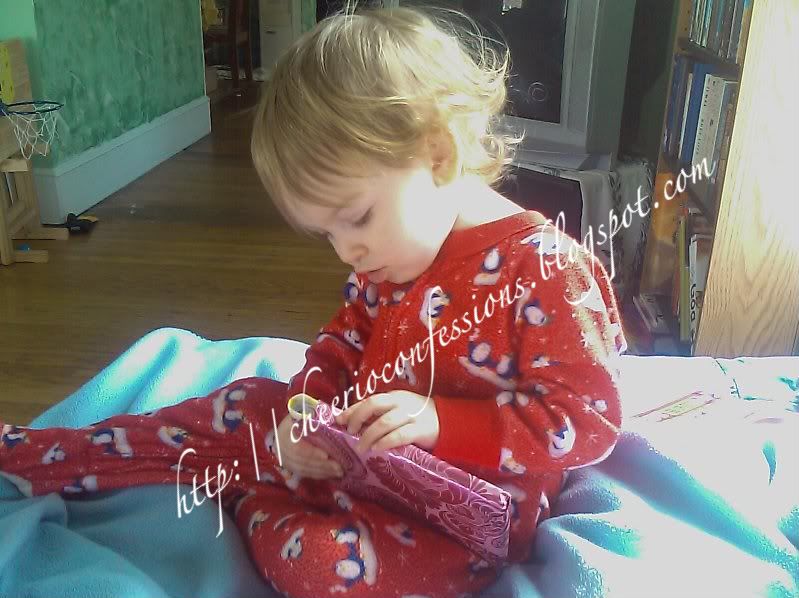 Even if they weren't technically for him. (lol) He took great joy in ripping off a tiny piece of wrapping paper and then throwing it over his shoulder onto the floor. He didn't care where it landed so long as he got to toss it on the floor. (lol)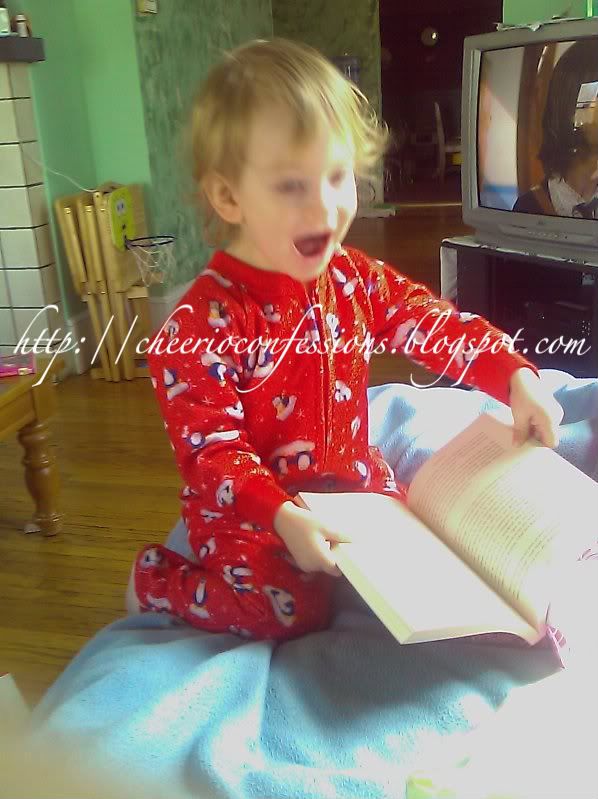 His face is a little blurry in this one but I love the expression. (lol) When I asked him what it was, his face lit up and he squealed, "A gook!" (a.k.a. "A book!")
And here, to the left, we have the final shot of the opened gifts. The wrapped gifts were: nesting "Caterpillar Spillers" tubby cups/toys (just above the binkies), Sweet Pea photo album (to the right of the tub toy), "Blue like Jazz" book, "Chronicles of the Cross" book.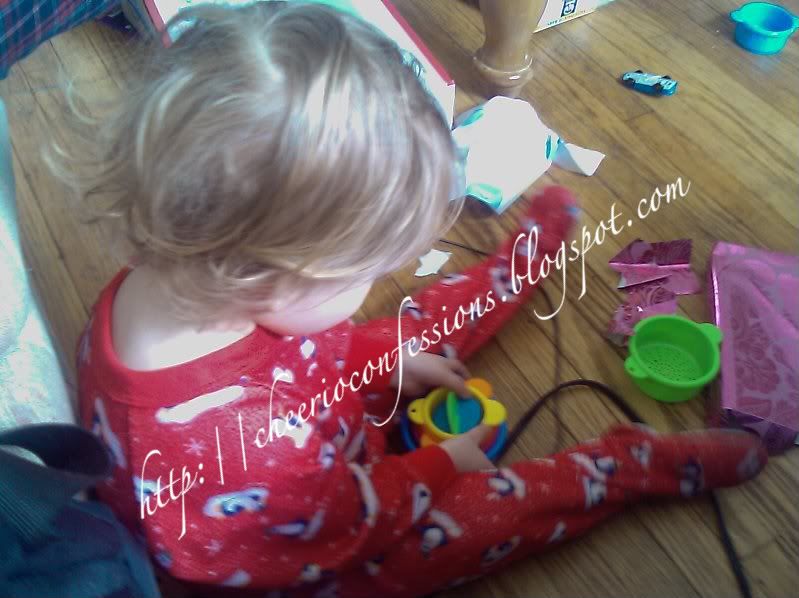 After opening the gifts and being thrilled over the "gooks" he realized that there were toys included. (lol) He grabbed the Caterpillar Spillers and "forcefully requested" (otherwise known as "demanding") we open them. Then he sat on the floor, in the middle of the wrapping paper he so joyfully tossed on the floor and checked it out.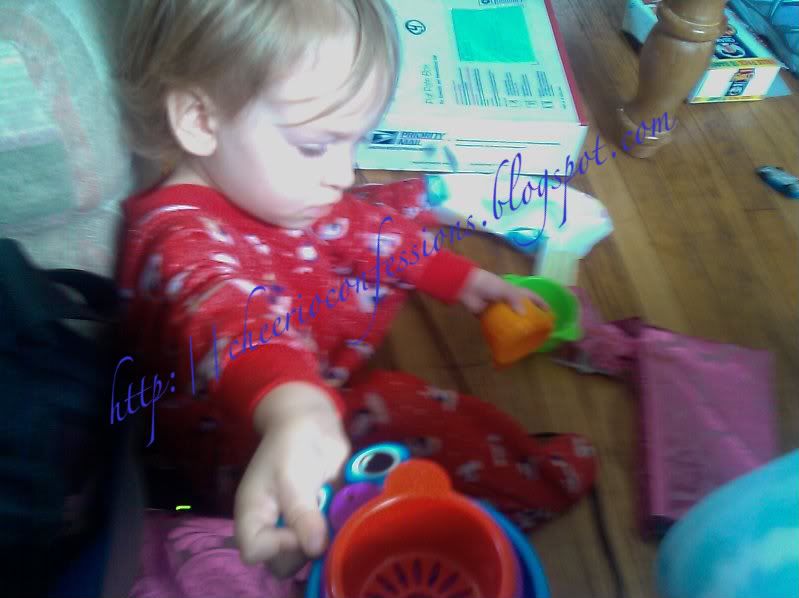 When I asked him to show the new toy to me, he was so engrossed in checking out the different pieces that he couldn't even be bothered with actually looking up at me! (lol)
Now I want to tell you about the mystery behind the sender. I feel like an idiot but it's actually pretty funny. At least I think it is.
Anyway, the package arrived and it had a return address on it. However, the return address only had the last name. Now it took me a few but it finally dawned on me who's last name it was. The "Apple" teether also helped, although I don't know if that was intentional or not. ;) So my address and the return address was written on an envelope about the right size for a card. I didn't think anything of it. Honestly I just figured that she didn't want to fill out one of the actual labels and went with an envelope for aesthetic reasons. Well today I was writing down everything in my written pregnancy journal (Yes, I have a written pregnancy journal and a pregnancy blog. After all, there are certain things a girl doesn't want to share with the whole world. lol) and it occurs to me that the envelope feels a little thick. So I open it and low and behold there's a card in there! (lol) So I read the card and Ta Da mystery solved. Only it took me about a week to solve it. (lol)
Thank you Apple! The boys are having a blast with the Caterpillar Spillers. I can't wait to see Tiny in the onesies. And Rob used his gift on himself, as promised. :)