10:15:00 AM Posted In
27 weeks
,
Bed Rest
,
Pictures
,
Pregnancy
,
Special People
Edit This
I love my job. I love being a stay-at-home mom, which then affords me the time I need for my other job as the President of the PTA at Gavin's school. It kills me that I can't be at the school everyday doing the simple things like checking my mailbox. (I have a mailbox, how cool is that?! lol) I love working with the staff. I love talking to them. Hearing what they need help with. What sort of things the PTA can do to make their jobs easier. I love the staff at his school. I've said it before and I'll say it again, they are all angels. No one else could do what they do with the style, flair and love that they do it.
It's funny though. Maybe it's because in high school, I wasn't the most popular or the prettiest or the most outgoing (I know, who would have thought! lol) and so I don't see myself as any of those things. I never had a lot of friends. Just one best friend and few acquaintances. Maybe a boyfriend. So when I think of the staff at Gavin's school, I think of them as my friends. All of them. The principal/director, Laura, the teachers, Sensei, each and every one of them have become my friends in my heart and mind. But I just kind of figured that they humored me. (Granted, I can be a humorous girl (haha) but that's not what I meant.) I guess I always figured they talked to me, they laughed with me and then when I was gone they either forgot I was there or were like "thank God, I thought she'd never leave". These are my issues not theirs. I know that. But for better or worse, it's how I feel. I would appear that I am wrong.
I email with a few of the staff every once in a while. It's nice. To "talk" to them outside of school. To hear about their lives. To honestly get to know them as people beyond my child's educators. Well, yesterday I was reminded and shown just how wrong I truly am.
Rob went to school to pick Gavin up and help his teachers with some techno-issue. When he returned home he had a surprise for me. :)
There were Reese's Peanut Butter Cups as well but they were for Rob and didn't even make it into the picture! (lol)
There was also an adorable collage of pictures on construction paper in a file folder that said "While You Were Out" on the front. I would post pictures of it (Lord knows I want to) but it has pictures of Gavin's classmates and I can't post pictures of them without permission.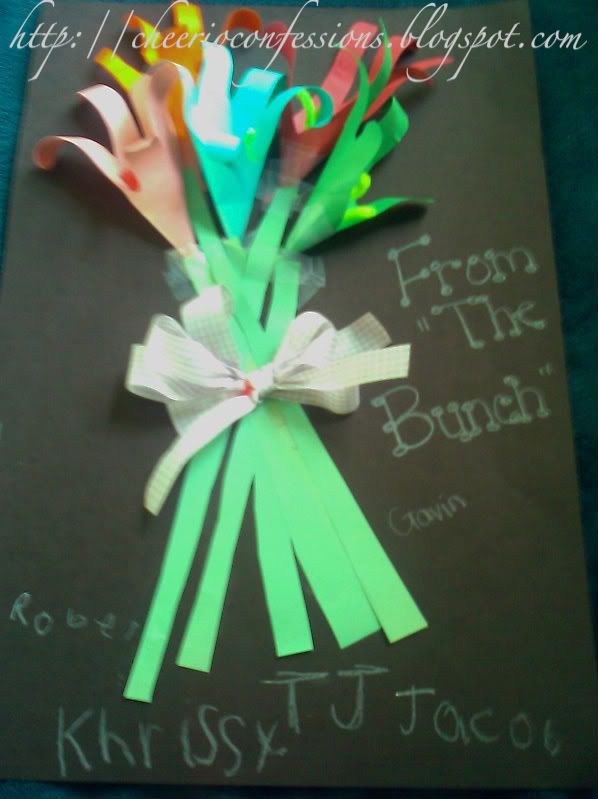 This picture was made and signed by Gavin and his classmates. The flowers are tracings of their hands that they cut out and rolled to make flowers. (How stinking adorable is that?!)
Between my flowers and the collage I was crying like a baby. It was all so sweet.
I feel truly blessed to have so many wonderful, caring people involved in our lives. Thank you all from the bottom of my heart.