11:16:00 AM Posted In
2 years
,
Announcement
,
Elliott Richard
,
Pictures
Edit This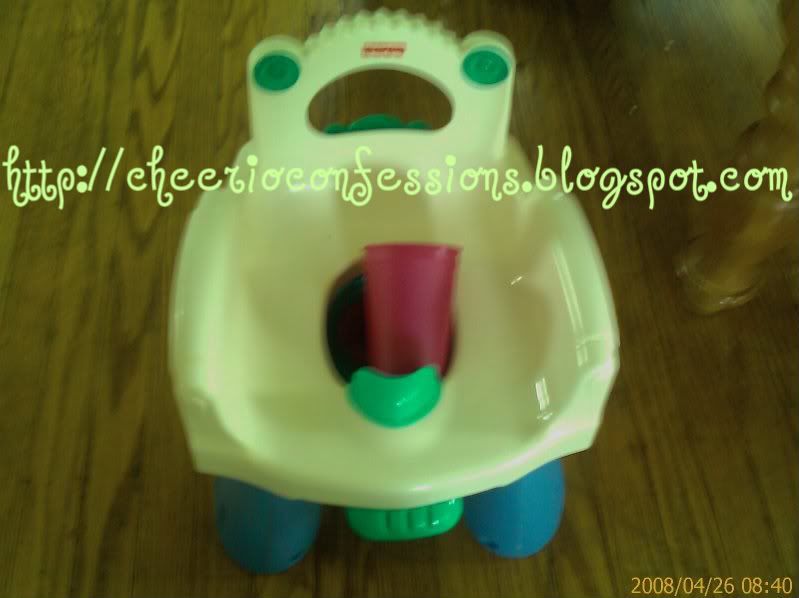 This is the "Throne".
We just got it out the other day and are still trying to get Elliott Richard used to seeing it, sitting on it etc.
As you can see, he currently thinks it's a really neat place to hide stuff. (lol) While we know we'll have to put a stop to that, for now, while he's "getting to know the potty" we figured it was ok. (I'm sure this will come back to bite me
firmly
on the butt very soon. lol)
We're pretty certain it's time because he's started hiding when he poops and then he'll tell us when he's done that he pooped. If he pees, he
sometimes
tells us right afterward and asks for a dry diaper. He's interested in others going potty (which is perfectly normal from what Dr. H (his ped) says). And some nights he stays dry. Some nights he doesn't. But he's definitely going for long periods of time during the day dry. So I'm relatively certain that it's either time now, or it will be very soon.
Now keeping in mind that we haven't had to potty train anyone in...what...nearly 5-6 years I'm very open to any and all tips, tricks and whatnot that y'all have figured out. I honestly don't even remember how we introduced Gavin to the potty. (lol)