11:00:00 PM Posted In
Birthdays/Holidays/Anniversaries
,
Daddy/Rob
,
Elliott Richard
,
Emmett John
,
Family/Friends
,
Food
,
Fun
,
Gavin
,
House/Home
,
Life
,
Pictures
,
Preemies
Edit This
Christmas Morning 9:00 am

After Gavin and Elliott Richard work us up for presents, we got ready and went to Grandma and PaPa's for Christmas Breakfast. Here's some of the family hanging out, drinking coffee and chilling while breakfast is finished up. (FYI we ate 45 eggs!!!!! OMG)

And of course, what is any picture montage without group picture of my Baby Boys - Daddy (not a Baby Boy), Elliott Richard and Emmett John. Emmett John had lost his patience for waiting for the 45 eggs by this point. (lol)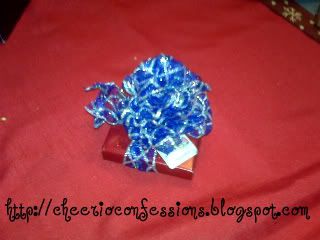 Presents!

After we after a huge breakfast prepared by PaPa and Aunt Kate, which was absolutely delicious! Then the guys did the dishes so Grandma wouldn't because she had to be at work at Noon. Once we were fed and cleaned up, it was time for presents!!!! =) lol

I took this picture of the bow on Jenna's gift because it was just the most adorable bow I have ever seen! Grandma made it herself too. And she says I'm creative. Pfth.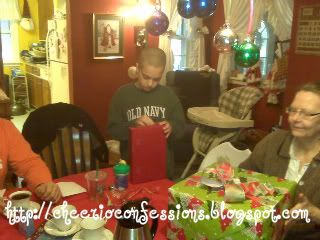 Family...ah who am I kidding...MORE PRESENTS! =)

Here's Mr. Gavin opening one of his gifts. He's always so serious. =) But even with very little sleep and so much going, he did really well.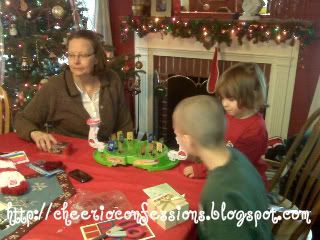 Family Time

Elliott Richard loves this Pokemon game that Grandma and PaPa got him. There are little marbles and Pokemon cards. You shoot the marbles and they hit these triggers which causes the cards to *pop* up. Anyway, he adores it and Grandma was brave enough to play a few rounds the "Elliott way". Gavin was just kind of chilling and watching.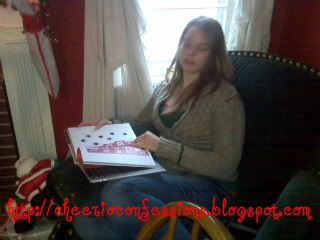 Relaxing

Here's Aunt Jenn kicking back and reading her gift, The Postcard Secret book. (Or whatever it's called...I'm too tired to go looking for it.)

Passing Out

After breakfast we all went our own ways for a bit, then we met back up at Aunt Carol & Uncle Rick's house for lunch/dinner (so what is that called? Linner?). It was huge and delicious - turkey, cheesey potatoes, brocolli cheddar rice casserole, salad, stuffing, ham and a whole bunch more. It was so, so, SO good! Some of us wished we could pass out afterwards with full bellies surrounded by family. Then there were a few of us, *cough* Kate *cough*, who did. (lol)