8:54:00 PM Posted In
Birthdays/Holidays/Anniversaries
,
Elliott Richard
,
Emmett John
,
Fun
,
House/Home
,
Life
,
Pictures
,
Preemies
Edit This
Just a quick Christmas 2009 at Home recap in photos...okay, sadly these are the only photos I took with my cell phone. The rest are on my camera and I haven't had the chance to pull them over yet. Thoes will come tomorrow. =)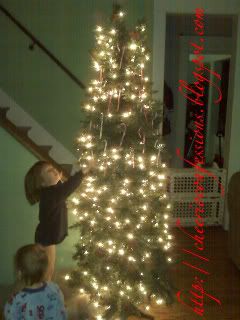 Elliott Richard and Emmett John just after we decorated the tree.

(If you look carefully you can see that we only used candy canes to decorate this year. That way if they fell off and broke there wasn't any harm done; we could just eat the carnage. =) Also if you look again, you'll notice that the candy canes only cover the top half because I was trying (in vain) to keep Emmett John from stealing candy canes.)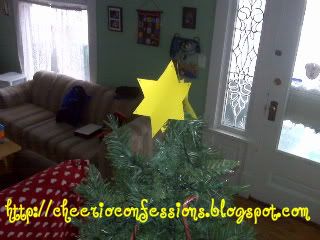 Our sad little yellow "golden star" on top of our tree.

Elliott Richard kept asking so sweetly for a "golden star" to put on the top of our tree. Unfortunately, the ecomony being in the lovely state that it is we just couldn't get one this year. So I made one...sort of. I made this one, which isn't gold and it fell apart the day after I took this picture because the glue gave way. No matter. For a day or so, I was able to give Elliott Richard the star he wanted. =)